Essential Negot'g Skills (6/15/23)
SCHEDULE:
    Essential Negotiating Skills
Day(s):                         Thursday
Meeting Date(s):          6/15/2023     
Start Time:                    06:00 PM               
End Time:                     08:00 PM     
  Essential Negotiating Skills (ENS)
There is no "one size fits all" technique to negotiating, because each negotiating scenario is unique – the subject, the power & personality of the players, the environment, time & resource constraints, etc., are very different. Irrespective of how great, the cards you have – your sequence of play will be dictated to a high degree, by the cards the others drop on the table. There are hundreds of books and papers on negotiating, citing various case studies. This workshop is not about another few case studies. Yes; we do discuss case studies. But our primary focus is to provide you with a process, and a set of tools that you could use in any given situation.
Who Should Attend:
•   Anyone who has to interact with co-workers, clients, customers, buyers & sellers.
•   Contract negotiators, purchasing managers, and lawyers.
Take Note:
Anything you want or need is owned or controlled by someone else. Yet, everyone is willing to give you what you want – in return for what they want. But, to get that something on your terms, you must:          Negotiate, and be willing to pay the price!

Remember, nothing in life is free – you pay for it indirectly. When you get something for nothing, you just haven't been billed, yet. There is always a price    if not now, certainly at a later date!
The greatest misunderstanding about negotiating is that it is adversarial in nature. In reality, it is a problem-solving process where each side sees the other as a potential partner.
After this workshop participants will be able to:
•   Receive the presentation deck and an E-Book.
•   Apply the ten "Negotiator's Rules".
•   Sessions may not be recorded and/or distributed or posted on social media.
•   For this interactive session, attendees are required to participate with "camera-on".
•   Any participant who wishes to receive a copy of the "deck" for personal use will receive
    same via a LinkeIn request to Dr. Errol.
SPEAKER BIO
Dr. Errol Wirasinghe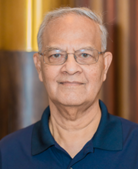 Dr. Errol Wirasinghe, developer of the XpertUS Decision Support System, is the author of two books on decision-making. Since 2000, he has dedicated his professional life to helping people make better,
defensible, decisions.
Errols working experience includes:
   - Starting as an Engineering Apprentice
   - Owning & operating two liquor stores
   - Founder of an Equipment Leasing Company
   - Founder of a Procurement Company, supplying
     Oil Companies in Angola.
Errol has lived and worked in Asia, the Middle East, Europe, North America and South America.
TICKETS:       
                             Category                  

Early Bird Pricing

(To – May 5)

Regular Pricing

Member Tickets 

$55

$65

Non-Member Tickets 

$65

$75

All PMINYC Volunteer Tickets 

$45

$55
OTHERS
| | |
| --- | --- |
| Cancellation Policy | Registration fees, less a non-refundable $10 processing charge, are refundable if cancellation is received by noon on the registration deadline. |
| Refund | To request a refund, send email to fred.stein@pminyc.org and provide the Order # and Event Start Date |
| Photo and video policy | |
| Go / No Go Date | 6/5/2023 |
| PDU's earned | Attendees self report 2.0 "Power Skills" PDU's |
It is no longer possible to register for this event