<< Back to Calendar
Smartsheet for Project Leaders (5/24/23-5/25/23)
SCHEDULE:
Smartsheet for Project Leaders that GSD
Day(s):                    Wednesday & Thursday
Meeting Date(s):       5/24/23 – 5/25/23    
Start Time:                      05:00 PM               
End Time:               08:00 PM     
Workshop - Smartsheet for Project Leaders that GSD          
We've learned that Project Management Tools are a lot like choosing the best motorcycle; it all depends on what you plan to do with it. If you want to go 180 miles per hour on a straight stretch of freeway, a sportbike is the best. If you're going to ride on the dirt or sand, then a dirt bike is best. And if you want to cruise around, take in the sights and look like a badass, a cruiser is the way to go.
Our clients all ascribe to different tools. Some use MS Project; others use Smartsheet, etc… So we remain flexible and figure out how to apply our proven Project Leadership best practices to our client's PM Tool "Du Jour." The only tool that is NEVER the best PM tool is Excel.
So eventually, you have to select a tool that isn't Excel; now what? It's time to use it to Get Sh*t Done! The first step, sign up for a training course and learn how to use the tool. But wait… Did you want to learn how the tool works? Or do you want to learn how to use the tool to ROCK a project all the way to completion?
Join J. Scott on a journey that will teach you how to use Smartsheet to ROCK a project all the way to completion. A bonus is that you will be able to apply the best practices you learn to any tool as long as it's not Excel! Why not Excel? Sign up for the workshop and get after it!
Learning Outcomes: 
   - Learn how to define a Project with Smartsheet and get BUY-IN effectively.
   - Learn why approval is NOT the same as BUY-IN.
   - Work with a breakout group to develop CRISP Assumptions, Risks, and
     Constraints that aren't BS.
   - Learn how to use Smartsheet to plan a project and eliminate 99% of the
     avoidable Risk.
   - Work with a breakout group to develop a TIGHT Work Plan in Smartsheet.
   - Learn how to use Smartsheet to CRUSH Risk and lead your stakeholders
     to an EPIC success
Speaker Bio
Jason Scott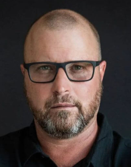 J.Scott is a regular guy who grew up in gangland Los Angeles, dropped out of high school, and jumped out of helicopters as a rescue swimmer in the U. S. Navy. And… Over two decades ago, he founded 120VC. He's about helping people, leaders, and their teams get sh*t done. Today, he lives in Tacoma, WA, serving his global customer base, launching new businesses, and exploring the outdoors with his family.
After dropping out of high school, J. learned all that anyone needs to be successful is to be disciplined, trusting, transparent when it matters, and accountable. With that recipe, he and 120VC have been helping Fortune 500 leaders, and their teams benefit from the transformative power of getting shit done #GSD.
His approach to #GSD isn't magical. Nor does it require anyone to learn a bunch of new buzzwords, deploy technology, act smart, be smart, pray or drink any kool-aid. It just requires a little grit, courage, the willingness to take the first and second steps, and a commitment to never, ever, ever give up. Just get focused and do the work.
Jason has spent over 20 years leading global transformational efforts for DirecTV, Trader Joe's, Blizzard Entertainment, RIOT Games, Sony Pictures, ResMed, AAG, Universal Music Group, Remitly, and others. 
He is the author of two Amazon-bestselling books "It's Never Just Business: It's About People" and "The Irreverent Guide to Project Management, An Agile Approach to Enterprise Project Management."  
His passion to mentor and training a new generation of leaders led him to start the Transformational Leadership Academy where he leads a 14-week certification program.
In 2020, Jason launched the 120 Brand Community, featuring Brick and Matter CO, BAMCO, a brand accelerator transforming how brands can go to market, and Next Jump Outfitters, an overland guide and e-commerce business transforming how people balance work and play as digital nomads.
Tickets:
                             Category                  

Early Bird Pricing

(To – April 21)

Regular Pricing

Member Tickets 

$200

$225

Non-Member Tickets 

$225

$250

All PMINYC Volunteer Tickets 

$175

$200
It is no longer possible to register for this event