<< Back to Calendar
PMINYC PDD 2021 (08:30 - 05:30)
Education Class - Details to be sent to registrants after registration closes
PMINYC Virtual Professional Development Day 12/03/2021
Theme: Strengthening PM Skills in a Virtual World with Digital Tools
Professional Development Days (PDD's) are a Project Management Institute (PMI) Chapter's annual gathering of a community of project management colleagues for an all-day shared learning and professional development event. The PMINYC Chapter's 2021 PDD program is a virtual event being offered on Friday, December 3rd with a theme of: "Strengthening PM Skills in a Virtual World with Digital Tools". 
Agenda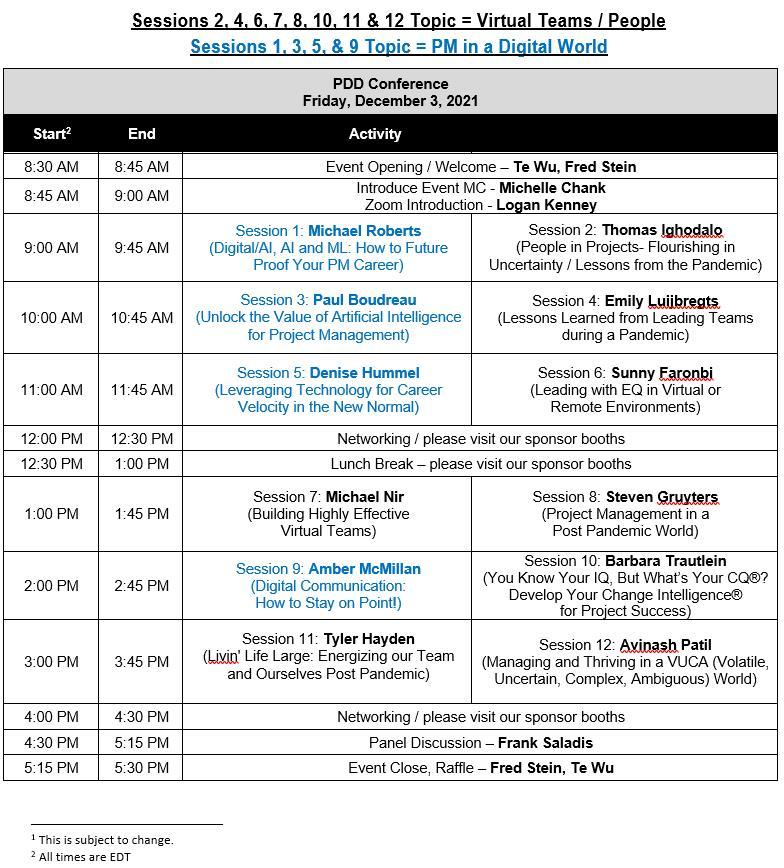 ---
Unlock the Value of Artificial Intelligence for Project Management
Imagine the incredible value if every project was delivered on time, on budget and with little or no change to the scope of work?  That is the potential of applying artificial intelligence (AI) to project management.  However, misconceptions and lack of preparation are huge challenges for organizations that attempt to implement AI for project management.  This presentation starts with a concise overview of AI and provides basic guidelines for how it can be used in projects.  A practical demonstration of AI capability in project management is included.  AI is a disruptive technology that will change the way we manage projects.  We need to understand the potential of this technology and use it to deliver the project success rates that this profession truly deserves. 
Paul Boudreau

Paul Boudreau is a highly respected project management professional with over thirty-five years experience in the technology industry.  Paul is currently a college professor at Algonquin College in Ottawa, Canada teaching project management.  He's a global leader in researching and applying AI concepts, focusing on machine learning, natural language processing and genetic algorithms. Paul has written two books about using AI for project management:
---

   - Applying Artificial Intelligence to Project Management (https://amzn.to/37jPwUc) and
   - How the Project Management Office Can Use Artificial Intelligence to Improve the Bottom Line (https://amzn.to/3bXdshC)

Artificial Intelligence (AI) and Machine Learning (ML): How to Future Proof Your Project Management Career
We all know AI and ML are two huge factors in the change in technology and business.  But what is their impact on you? What will your job look like five years from now? Will it even exist in 5, 10 or 20 years? What will happen to the organization and industry you work for?

All these questions and more can be answered in this 45 to 60 minute talk around AI and ML.  We will discuss the definitions of these two terms, how they impact business and workers, and what things project managers can do today to prepare for the future.
Michael Roberts

Michael Roberts is an IT industry professional with more than 20 years of experience in project management, and bringing digital products to the market.  His industry certifications include those from Cisco, CompTIA, Microsoft, ICAgile, and the Scaled Agile Framework.  With his experience as a technology executive, he's guided many companies to successful IT and software projects, and become a skilled strategist who transforms strategic plans into workable solutions and benchmarks performance against key operational targets/goals.
---
Leading with Emotional Intelligence (EQ) in Virtual or Remote Environments
The COVID-19 pandemic forced many teams to start working remotely. Even for those who are used to working in virtual environments, the events of 2020 have accelerated the intensity and changed the pace. The pandemic has changed how remote working is perceived, and has most likely changed forever, how virtual teams interact.

With the importance of emotional intelligence (EQ) in leading project teams, it becomes more important while working remotely. Team members may feel isolated and this may contribute to reduced productivity. The leader may also feel the loss of control and could suffer from emotional disconnect. But these situations can be managed effectively.

This presentation outlines basic the steps that you can take as a leader of project teams, to ensure that your teams remain engaged and highly productive.
Sunny Faronbi

With a career spanning more than three decades across four continents, Sunday Faronbi (Sunny) is using the skills he developed while leading teams to enable and motivate others to become a much better version of themselves.

As a conference speaker and coach to project managers, STEM (Science, Technology, Engineering and Mathematics) professionals and executives, Sunny empowers organizations by coaching teams and leaders to develop the skills necessary for leadership positions. He speaks frequently on how you can use your emotions to work for you instead of allowing them to work against you.

Sunny is a certified Emotional Intelligence coach, and is a member of the John Maxwell Team of coaches and speakers. He is the author of the book:
   - Nothing Higher – Why You Need to Descend in Order to Soar
     (https://www.amazon.com/dp/B094XGSNW5/ref=dp-kindle-redirect?_encoding=UTF8&btkr=1)
             
Sunny is currently an instructor with Project Management Institute's (PMI) SeminarsWorld®.
---
Lessons Learned from Leading Teams during a Pandemic
During 2020 we all had to adjust to a new way of working, connecting with our peers and colleagues. This was not only difficult for many of us but the most difficult thing was learning how to coach and support teams who struggled with the isolation of lockdown or with their ability of working productively.

During this session we'll explore the lessons learned around:
   - How to lead teams during a pandemic
   - How to support teams that are struggling to work together
   - What you can do as a leader to build & maintain a strong team focus

Emily Luijbregts

Emily is a Project Manager with over 10 years of experience in managing projects in a variety of international, complex situations. She specializes in working with remote teams and different cultures.

Her passion is sharing knowledge and helping other Project Managers develop and overcome their difficulties.
---
Digital Communication: How to Stay on Point!
Managing communications on a project requires constant, sustained effort. Managing these communications in a digital world means exercising even more self-discipline to plan and prepare messages that stay on POINT!

As PM's, we should never assume that the messages we send are interpreted the same way they were intended as there are simply too many factors that can adversely affect the message. This engaging  presentation will highlight the responsibility of the communicator to plan the message, remain open to feedback, use emotional intelligence to ensure the message is received accurately and allow the time it takes for that message to be understood.

Using a simple 5 letter acronym: POINT, Amber will drill down into the digital tools needed for expanding the PM's proficiency in communication in a comprehensive way. Through interactive activities, breakout conversations and mixed media, participants will come away with tangible solutions for better digital communication.
Amber McMillan

A diversely skilled professional, Amber specializes in all aspects of leadership, communication and stakeholder management. She has a unique aptitude for leading complex conversations and works hard to create and sustain productive dialog through team building exercises, positive motivation and her own contagious enthusiasm.

With tangible credentials and over 25 years of experience in both profit and not-for-profit environments, she is committed to learning and growing while continuing to practice her profession. Amber excels as an empathetic visionary, establishing creative ways forward in complicated multiple stakeholder communities.

She currently serves as Chief Visionary Officer of Rogers Society, Board Chair of the Council for Certification in Volunteer Administration and Executive Educator for the University of Winnipeg, University of Saskatchewan and University of Victoria.
---
Igniting Behavior Change Thru Technology in the New Normal
The events of the past year have created a change in the competencies and behaviors necessary for professionals to succeed and is the starting point for a wider paradigm shift on how we train employees. More than 120 million workers in the world's 12 largest economies need to be upskilled in the next 3 years. Micro-competencies like authenticity, vulnerability, inclusivity and agility will become even more important than functional experience or fancy academic degrees. Those competencies require learning delivery that involves more than rote memorization and digital quizzes.  In addition, technology exists now to address individual learning styles. In other words, technology can adjust to people rather than the other way around. We invite you to imagine, what if you could learn how to switch off unwanted behaviors or habits and become your ideal self with minimal effort? Although habit change has been nearly impossible historically, today, new developments in AI and technology are making it possible for learning to adapt individuals' behaviors, making learning both fun and creative.  We invite you to join us and explore how 'real time' learning through technology support and just in time messaging is replacing traditional classroom training.
Denise Hummel

Nominated Microsoft M12 Female Founder, Denise works at the intersection of behavior change, technology and business impact.

She's founder and CEO of Lead Inclusively, Inc., now a division of RevWork, Inc., a SaaS technology platform focused on behavior change, learning, and professional development optimization. It has been accepted into the Microsoft Portfolio.
Denise founded and later sold her cross-cultural management consulting and training firm, Universal Consensus, LLC, to Ernst & Young.  She was a principal in their Human Capital division. 

She also practiced employment law and litigated the first class-action under the Americans With Disabilities Act.
---
Flourishing in Uncertainty / Lessons from the Pandemic
Projects, when executed with the best of intentions, take into cognizance varying factors of uncertainty in developing a realistic schedule that satisfies client and company expectations in line with budget and safety considerations. However, in spite of the varying degrees of risk assessment / mitigation performed prior to execution, facing actual force majeure events such as the novel COVID-19 pandemic and its devastating global impact leaves the best of project managers in a constant state of entropy seeking an equilibrium that satisfies project implementation.

This presentation seeks to present a real-life case scenario that leads to the successful execution of an Engineering, Procurement, Construction, Installation and Commissioning (E.P.C.I.C) project performed during the height of COVID-19 pandemic's uncertainty.

It will highlight the challenges (physical and mental) imposed by the pandemic on project execution and the solutions utilized in resolving each challenge, and critical role of Project Managers as effective leaders in driving resolutions.
Thomas Ighodalo

Thomas Ighodalo is a highly dynamic project manager offering years of experience in program and project planning, analysis, reporting and stakeholder management to enhance the delivery of complex onshore and offshore programs, encompassing Engineering, Procurement, Construction, Installation and Commissioning delivered through Agile and Waterfall methodologies.

He is a professional engineer, with Master's Degree in both Subsea Engineering and Chemical Engineering, an Alumni of the University of Aberdeen, a Project Management Professional (PMP) and a PMI member in good standing.
---
"You Know Your IQ, But What's Your CQ®? Develop Your Change Intelligence® for Project Success"
Are you frustrated that no matter what you try, your change projects seem to either fail outright or produce gains that don't last?  The reality is that a high percentage of change fails, or at least fall short of expectations.  As a Project Management professional, your career progress hinges on your ability to lead successful and sustainable change.  Every project is a change – so every Project, Program, and Portfolio Manager is a "change leader!"  In this interactive presentation, you'll get introduced to how to get beyond the buzzwords and leverage a proven formula for change.  The CQ® System for Developing Change Intelligence® is based on decades of change leadership in the workplace, years of conducting global research on managing change, and study into the psychology and neuroscience of change.  Through real-life examples you'll discover how to reframe resistance from enemy to ally, so you can build relationships that get results, by learning how to "engage the Heart," "enlighten the Head," and equip the Hands" to lead people in positive, new directions so change sticks.  You will emerge as a more competent and confident – and more agile and effective – Project Management Professional.
Barbara Trautlein
Dr. Barbara Trautlein (Trout-line) is author of the best-selling book Change Intelligence:  Use the Power of CQ to Lead Change that Sticks, and originator of the CQ System for Developing Change Intelligent Leaders and Organizations.

For over 30 years, Barbara has coached executives, trained leaders at all levels, certified change agents, and facilitated mission-critical change management initiatives - achieving bottom-line business and powerful leadership results for clients. 

In 2015, she was honored as the Change Management Consultant of the Year by the Association of Change Management Professionals Midwest Chapter. Barbara is gifted at sharing strategies and tactics that are accessible, actionable, and immediately applicable.  

Barbara holds a doctorate in Organizational Psychology from the University of Michigan. 
---
Livin' Life Large: Energizing our Team and Ourself Post Pandemic
Based on Tyler's bestselling book Livin' Life Large: Simple Actions that Create Success, this show will not only have your group rolling in the aisles with laughter but will also have them leaving the presentation room with simple changes that they can easily make in their lives.

Livin' Life Large combines expert storytelling, current research about human performance, engaging audience interaction, and Tyler's clean corporate humour.

This presentation is about creating long-term work / life satisfaction by living "every single moment of every single day." In doing so we are able to effectively and efficiently balance the rigours that work and life throw our way.  We explore this by learning about how to support each other, set goals/intentions, recognize the opportunities, and so much more.

Learning outcomes include work-life balance, networking. conference opener / closer and sustainable success.
Tyler Hayden

Tyler Hayden has been an internationally respected team builder, author, and business speaker since 1996.  He delivers a powerful punch that inspires teams, innovates management techniques, and invigorates team culture. When it comes to empowering audiences and teams to succeed—and to be their best every day—Tyler leads the way with insight and laughter.
 
He is the author of over twenty-five books and the creative mind behind 100's of powerful and fun team building products. Here are some links to his books:
   - www.teambuildingschool.com
   - www.teambuildingactivities.com
   - https://www.amazon.com/kindle-
                               dbs/entity/author/B00N9P1SHC.

His team building workshops and motivational keynote speeches receive rave reviews from managers and business leaders alike.  Make sure your seat backs are up and your table trays are stowed, because we are about to unleash him.
---
Building Highly Effective Virtual Teams
The ongoing challenges of creating the magical bond between team members in small and big endeavors can be elusive. What's more, in the last few decades, this has become increasingly challenging. This presentation provides you with the much needed practical advice on how to create an effective collaborative virtual / remote team environment.
You will learn to: Identify the characteristics, challenges and opportunities of virtual leading teams; define key strategies for leading effective virtual teams; recognize what virtual team members need and expect from virtual team leaders; employ key techniques to build trust.

The presentation follows the nine "must haves of high performance virtual teams" that appear in Michael's book: develop clear goals and plans; effective communications; improve and maintain positive relationships among members; clarify roles and responsibilities; enhance mutual trust; solve problems and make effective decisions; value and promote diversity; successfully manage conflict and provide development opportunities and recognition.
Michael Nir

Michael Nir, President Sapir Consulting US, is a team and enterprise agile coach; known for his passion, creativity and innovation; His Masters in Engineering and, training in Gestalt balance his technical know-how with emotional intelligence. Michael inspires people and teams to change, experientially and emotionally, while climbing the hill and reaching the summit.

The author of twelve books on influence, consumer experience, and Lean Agile project management, Michael delivers practical skills gained from eighteen years of experience leading change at global organizations in diverse industries.

Michael's latest book is "Success in the Gig Economy - The BOLDeR© Technique" (https://bit.ly/SuccessPDFeBook).
---
Project Management in a Post Pandemic World
In the early days of the COVID-19 crises many teams rose to the occasion and adapted quickly to meet changing customer and employee needs. The sudden shift to remote worked better than expected since it was mostly based on existing teams and familiar people. Post pandemic work life will not look the same as it did pre-pandemic. Hybrid work will be the norm, with a mix of people working remote and in the office.

In this talk we will explore how the role of Project Managers must evolve in a Hybrid world. We will learn:
   - How the role of the office will change
   - How we can improve virtual collaboration
   - How we can onboard new people that are not in the same location
   - How we can ensure people feel connected to their Hybrid team
   - How we can be more purposeful in designing a work environment for
     inclusion of all voices
Steven Gruyters

Steven Gruyters has been leading change and building high performing teams in traditional corporations as a 100% remote leader for over 20 years.

He is a coach, trainer and speaker for people that do not consider themselves natural born leaders. Steven helps them unpack leadership, culture, and collaboration challenges, run experiments, and scale solutions with confidence.
---
Managing and Thriving in a VUCA (Volatile, Uncertain, Complex, Ambitious) World
We are in a VUCA world, and the future of work is hybrid. There will be more remote employees. The Office won't be a place to work; it will be a place to collaborate, develop relationships and develop trust.

The way we work / manage needs to change to deal with the new world:

  - We need new approaches to sustain values, beliefs, and culture when most people are remote or work in hybrid environments.  
  - We need to define working culture – use kickoff at the outset of each project by developing their own team charters that specify how they will schedule and conduct team meetings, share the workload, make decisions, give each other feedback, blend virtual and in-person interactions, and respect individual styles and preferences.
  - We need awareness of the latest tools and technologies.
  - We need the ability to effectively manage across organizational, geographical & cultural boundaries. Delivering extraordinary results is the critical skill you need to thrive as a project manager in the new
    world.
Avinash Patil

Avinash has over 20 years of experience managing complex global PMO's, portfolios, and programs in enterprise and consumer products and services, with domain experience in SaaS, mobile Apps, transformations, and Cybersecurity.

Avinash has managed people in many countries in Europe, North America and Asia Pacific Japan. He has also managed PMO's / programs across 25+ countries at the same time.

A "Stanford Certified Program Manager" with certifications of CSM, CSPO and SAFe and a "Master of Technology" degree from Mysore University in India. His corporate experiences include working with Hewlett Packard and Cisco, and he currently drives strategic initiatives for VMware based in Palo Alto, California.
OTHER POLICIES
| | |
| --- | --- |
| Cancellation Policy | Registration fees, less a non-refundable $20 processing charge, are refundable if cancellation is received by noon on 11/26/2021. |
| Refund | To request a refund, send email to VPEducation@pminyc.org and provide the Order # and Event Start Date |
| Photo and video policy? | |
| Go / No Go Date | n/a |
| PDU's earned | Attendees can self-report up to 12.00 PDU's (6 during the event and 6 post event) |
SPONSOR SECTION

Tickets
$119.00 Member Tickets
$99.00 Earlybird rate before November 14
$139.00 Non-Member Tickets
$119.00 Earlybird rate before November 14
$89.00 PMINYC Volunteers
$69.00 Earlybird rate before November 14
It is no longer possible to register for this event